Pinecone Snowman Craft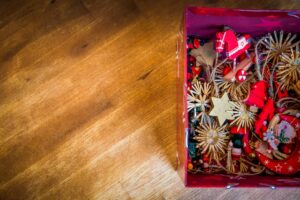 Supplies:
Welcome to our Snowman Pinecone Craft tutorial! In this guide, we will show you how to make adorable Christmas snowman decorations using pinecones.
Follow these simple steps and you'll have a whole snowman family in no time.
Pinecone
White, light blue, and black craft paint
1 brown chenille stem
1″ piece of orange chenille stem
2 medium light blue pom-poms
2″ piece of light blue felt
12″ light blue scrap fabric, cut to 1″ width
2 medium white glittery pom-poms
2 toothpicks
2 jumbo craft sticks
Blue glitter glue
Snow texture medium (recommended: Snow-tex)
Blue chenille stem
White craft glue or hot glue gun
Scissors
Step-by-Step Instructions:
Instructions:
If you gather your pinecone from outside, make sure there are no bugs hiding inside.
Paint pinecone with white paint. A second coat may be needed. Allow to dry completely.
When pinecone is dry, tie blue fabric strip around the top ⅓ of the pinecone as the scarf. Fringe the ends of the scarf by cutting thin strips with scissors.
Paint jumbo craft sticks with light blue paint and set aside to dry.
Glue blue felt strip to the top of the pinecone for the ear muff band. Glue the blue pom-poms to the ends of the felt strip.
Assemble ski poles by gluing white glitter pom-poms to the end of the two toothpicks.
Cut brown chenille into thirds. Set one piece aside for another project. Insert a brown chenille piece into the side of the pinecone for the arm and glue in place. Repeat on other side.
Hold the "ski pole" up to the "arm" and once you have it where you want it, trim the end of the chenille to about ¾" away from the pole. Wrap the end of the chenille arm around the pole and add a dab of glue to hold in place.
Glue the pinecone to the jumbo craft stick skis. Paint the craft sticks with a bit of blue glitter glue. Dab on some snow texture medium to the skis.
Dot on two eyes with black paint using the handle end of the paintbrush. Glue the orange chenille piece in as the nose.
Add a chenille hanger for your ornament by bending a piece of blue chenille in half and gluing the open ends onto the back of the pinecone.